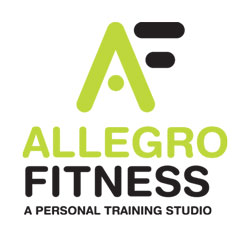 Allegro Fitness is a community focused on living well. We believe in hard work, intensity, dedication and motivation in a fun and relaxed atmosphere. Our certified personal trainer will provide you with challenging workouts and will guide you through them.
Not all workouts are created equal. Too much time at the gym is wasted – not because of a lack of motivation – but because many people lack the knowledge or guidance to find the right kind of exercise to maximize their personal potential.
At Allegro Fitness, we are focused on not only changing your body but improving your whole life! A good exercise program can help relieve stress, increase your energy level, boost your immune system function and help with weight loss. It doesn't matter what kind of shape you may currently be in, our goal is to help you become the best you possible!
We understand that it is hard to find time to workout. Between work, school, kids, and other commitments, it's difficult to find time for yourself. And those of us who find the time to exercise often lack the knowledge to properly execute the right fitness program.
Allegro Fitness is located in the Allegro dance studio and offers you a convenient way to fit in a workout while your child is in dance class!
Each workout is unique, so you will never get bored. You will receive personal attention in our small group classes, and will be guided through each exercise by our personal trainer who tailors the workout for your personal needs.
Contact us to sign up for your FREE TRIAL WEEK.
Benefits of Training with Allegro Fitness
Each workout is unique.

Personal attention from a certified personal trainer at a fraction of the cost of hiring a trainer one-on-one.

It's more than just an exercise class – the small group atmosphere is both challenging and motivating.

Multi-task…workout while your child is in dance class. No more excuses!
Click
HERE
for the AF Summer Schedule.
The Fall Schedule will be available mid-August.